Up, Not Down Syndrome
Uplifting Lessons Learned From Raising a Son With Trisomy 21
Synopsis
Up, Not Down Syndrome is a love letter and a map. Experience how it feels to think your life is over after having an unlovable baby. At first, the loss seems impossible to overcome. Alex becomes the author's greatest teacher. Love is stronger than fear. Everyone has gifts. The book consists of three parts: the story, the lessons Alex taught the writer, and Alex's perspective. Up, Not Down Syndrome is a promise to stay positive, no matter what: up, not down.
Nancy's journey gets to the core of what it is to be human:
Explore what it feels like to think life, as you know it, is over.
Discover the fierce love, joy, and peace a baby diagnosed with Trisomy 21 (Down syndrome) brings.
Learn the lessons this child taught his mom.
Understand the gift this baby brings to our world.
Realize the depth of the love this family has for the child.
Imprint:
Modern History Press
Author:
Nancy M. Schwartz
ISBN-13:
PB 978-1-61599-462-5 / HC 978-1-61599-463-2 /
eBook 978-1-61599-464-9
List Price:
PB $ 21.95 / HC $ 32.95 / eBook $ 6.95
Trim:
6.14 x 9.21 (122 pp)
Audience:
General Adult
Pub Date:
04/01/2020
BISAC:
Family & Relationships/Children With Special Needs
Education/Special Education/Mental Disabilities
Biography & Autobiography/Personal Memoirs
Modern History Press
5145 Pontiac Trail
Ann Arbor, MI 48105-9627
Please contact info@LHPress.com
Tollfree USA/Canada: (888)761-6268
Elsewhere: (734)417-4266
Fax: +1 734 663 6861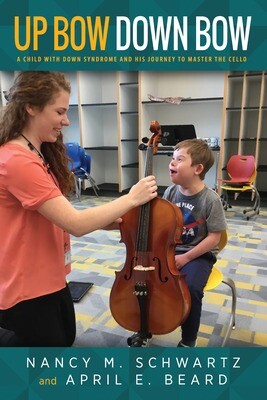 Up Bow, Down Bow [PB]
A Child with Down Syndrome and His Journey to Master the Cello